Busy AM, but wanted to do a shout out to the beautiful and ever lovely TJs.
Yesterday after enjoying a fab Chai Spice Eggnog Latte @ SBUX,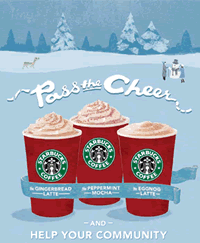 I dashed into TJs for some unique grocery shopping. I found everything and more that that was on my list.
So. Favs at TJ of the week:
1. Soyaki Sauce, $2.29/jar
2. Frozen Edamame $1.69/lb
3. Frozen Mango, $2.29/lb
4. Shallots, 3 for $0.99!!
5. Edamame Crisps, $2.29/bag
With all this goodness (mostly edamame goodness, haha), we managed a lovely oriental fusion type dinner. Used half of the ingredients, and only ate half what we made. SO. $18 investment, $4.50 delish dinner and three to come. Yum!
Pics of my favs. Check out your local TJ for equal fun and flavor 🙂